23 Cassin Young Crewmen Gave the Ultimate Sacrifice for there Country
Killed in Action - April 12 1945
Moore, Robert Dean TM3c
Date of Birth: 17 Nov-24 making him 20 when he died…
NOTE- Was actually born 4 April-26 making him 18 when he died.
Date of Enlistment: 18 Nov-42 Enlisted from Oklahoma City, OK (18 or 16)
Reported Aboard: 31 Dec-43 from Rec Station Terminal Island, CA as a S1c, V-6
Promoted to TM3c(T) on board ship on 1 July-44
Left Ship Temporarily:
Transferred to USS Samaritan for Treatment… 31 Oct-44
Received from ComDesPac Flag Allow for duty… 25 Dec-44
Death by Kamikaze
Believe he was part of the crew of the forward starboard 40mm gun.
Gunshot wound to left chest, presumable from kamikaze as it strafed ship before exploding overhead?
Final Resting Places:
Service for Robert on board ship at 1300 on 19 Apr-45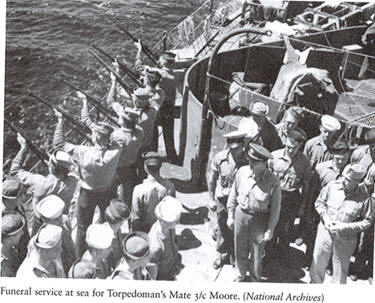 Robert's body and effects transferred to APA 170 for disposition.
Buried temporarily on Zamami Shima, Ryuku Retto.
Transferred to Golden Gate National Cemetery on 12 May-49

Condolence Letter from Captain Ailes to Robert Moore's mother...
Page 1
Page 2